Posts for tag: teeth grinding
By Central Kentucky Dental
September 05, 2021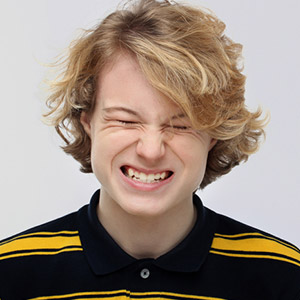 More than one parent has wakened in the middle of the night to an unnerving sound emanating from their child's bedroom. Although it might seem like something from the latest horror flick is romping around in there, all that racket has a down-to-earth cause: teeth grinding.
Teeth grinding is the involuntary habit of gnashing the teeth together when not engaged in normal functions like eating or speaking. It can occur at any time, but frequently with children while they sleep. Adults may also grind their teeth, but it's more prevalent among children.
While stress seems to be the main reason for adult teeth grinding, many health providers believe the habit in children is most often caused by an overreactive response of the neuromuscular system for chewing, which may be immature. Other conditions like asthma, sleep apnea or drug use may also play a role.
Fortunately, there doesn't appear to be any lasting harm from young children grinding their teeth, although they may encounter problems like headaches, earaches or jaw pain in the short term. Most, though, will outgrow the habit and be no worse for wear.
But if it persists beyond childhood, problems can escalate. Adults run the risk of serious cumulative issues like chronic jaw pain, accelerated tooth wear or tooth fracturing. It's similar to finger sucking, a nearly universal habit among young children that poses no real harm unless it persists later in life.
And as with finger sucking, parents should follow a similar strategy of carefully monitoring their child's teeth grinding. If the habit continues into later childhood or adolescence, or noticeable problems like those mentioned previously begin to appear, it may be time to intervene.
Such intervention may initially include diagnosis and treatment for underlying problems like upper airway obstruction, asthma or stress. For short term protection against dental damage, your dentist can also fashion a custom mouthguard for your child to wear while they sleep. Made of pliable plastic, the guard prevents the teeth from making solid contact with each other during a grinding episode.
Outside of some lost sleep, there's little cause for alarm if your child grinds their teeth. But if it seems to go on longer than it should, you can take action to protect their long-term dental health.
If you would like more information on teeth grinding, please contact us or schedule an appointment for a consultation. You can also learn more about this topic by reading the Dear Doctor magazine article "When Children Grind Their Teeth."
By Central Kentucky Dental
February 27, 2021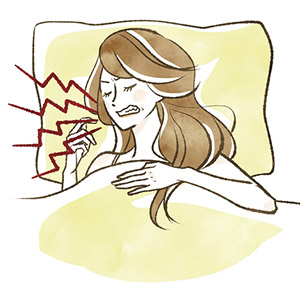 Life has changed dramatically over the centuries. But although our ancient forebears wouldn't recognize much of our modern world, they would be well acquainted with one particular oral habit that still persists. There's some evidence from archeological dental examinations that our ancestors also clenched or ground their teeth.
This habit of involuntarily gnashing, clenching or grinding the teeth together is most prevalent among children, although not considered a major problem at these younger ages. But it can continue into adulthood, as it does for one in ten people, and lead to an array of problems from worn teeth to jaw joint pain.
As to why adult teeth grinding occurs, researchers have proposed a number of possibilities. Some believe it may be related to the arousal response that occurs when a person passes through various stages of sleep. It also appears that certain psychoactive drugs can trigger it. But at the top of the cause list, teeth grinding is believed to be a physical outlet for stress.
Because of the possibility of multiple causes, there is no one method for treatment—instead, it's better to tailor treatments to the individual. Universally, though, patients who use drugs, alcohol or tobacco, all of which are considered contributing factors, may reduce grinding episodes by restricting their use of these substances.
It's also possible to reduce the incidence of teeth grinding through better stress management. People can learn and use individual relaxation techniques like meditation, mindfulness or biofeedback. For sleep-related teeth grinding it may also be helpful to forgo use of electronic devices before bedtime for a better night's sleep.
Dental treatments like an occlusal guard worn mainly during sleep can minimize the effects of nocturnal teeth grinding. This custom-made appliance prevents teeth from coming fully into contact with each other, thus lowering the intensity of the biting forces generated and preventing cumulative damage to teeth and dental work.
If you have symptoms like sore teeth and jaws, reports from your family hearing you grind your teeth, or catching yourself during the day clenching your teeth, make an appointment for a full examination. From there, we'll help you find the right combination of solutions to keep this old habit from complicating your oral health.
If you would like more information on teeth grinding, please contact us or schedule an appointment for a consultation. You can also learn more about this topic by reading the Dear Doctor magazine article "Teeth Grinding."
By Central Kentucky Dental
December 14, 2019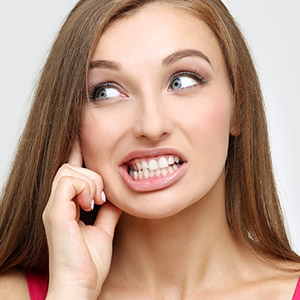 While your teeth and gums can take a lot, they still face dangers like dental disease. Your teeth are also affected by aging-related wear and tear.
And, something else could put your teeth at risk: teeth grinding. This is an involuntary habit afflicting one in ten adults in which they grind or clench their teeth, often while they're asleep. This generates higher than normal biting forces that can cause sore jaw joints, accelerated teeth wear and damage to the ligaments that hold teeth in place. In the worst case, you could eventually lose teeth.
So how do you know you're grinding your teeth, especially if you're asleep? You might notice your jaw being unusually sore after you wake up or your jaw muscles feel tired. Your dentist may also notice higher than normal tooth wear during a regular checkup. One of the best indicators, though, might be your sleeping partner or family: Teeth gnashing together can be loud enough to disturb others' sleep.
In treating adult teeth grinding, it's best to first determine the underlying cause. One of the most prominent reasons is chronic stress: If you're under high pressure from situations at work or at home, pent-up stress can vent through physical outlets like teeth grinding. You can manage high stress through relaxation techniques, biofeedback or group therapy, which could in turn reduce teeth grinding.
Teeth grinding could also be related to a sleep disorder, such as problems with shifting between nightly sleep cycles. Certain psychoactive drugs are often associated with teeth grinding too. And, because of alterations in brain chemistry, tobacco users are twice as likely to grind their teeth as non-users. So, receiving treatment for a medical condition or making certain lifestyle changes could help lessen a grinding habit.
Many of these approaches take time to alleviate teeth grinding. For immediate relief, your dentist can create a custom mouthguard you wear while you sleep to reduce the effects of teeth grinding. The guard prevents the upper and lower teeth from making contact while biting down, which reduces the forces against them.
The damage from teeth grinding is often cumulative. If diagnosed early, though, we may be able to stop or minimize the damage before it goes too far.
If you would like more information on teeth grinding, please contact us or schedule an appointment for a consultation. You can also learn more about this topic by reading the Dear Doctor magazine article "Teeth Grinding."