Posts for tag: pediatric dentistry
By Central Kentucky Dental
May 12, 2018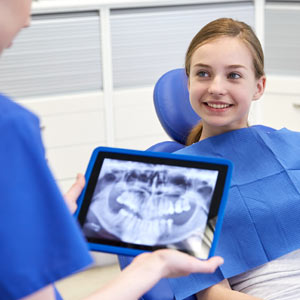 Your child's dental care wouldn't be the same without x-ray imaging. It's one of our best tools for finding and treating tooth decay.
But since x-rays emit radiation, is your child in any danger when they're exposed?
X-rays, an invisible form of electromagnetic energy, will form images on exposed film after passing through the body. Because it takes longer for x-rays to pass through dense tissue like teeth and bones, the corresponding areas appear lighter on the film than less dense tissue like the gums. We can detect decay because the diseased tooth structure is less dense and thus appears darker against healthier tooth structure.
The downside of x-rays, though, is the radiation they emit could potentially alter cell structure and increase the risk of future cancer, especially with children. That's why we follow a principle known as ALARA when using x-ray imaging. ALARA is an acronym for "as low as reasonably achievable," meaning the doses for an x-ray session will be as low as possible while still gaining the most benefit.
Advances in technology, particularly the development of digital processing, has helped reduce the amount of radiation exposure. We're also careful with what types of x-rays we use. The most common type is the bitewing, a device with the film attached to a long piece of plastic that the child holds in their mouth while biting down.
Depending on the number of our patient's teeth, we can usually get a comprehensive view with two to four bitewings.  A typical bitewing session exposes them to less radiation than what they're receiving from natural environmental background sources each day.
Keeping the exposure as low and as less frequent as possible greatly reduces health risks while still getting the full benefit of early decay detection. Still, if you have concerns about your child's x-ray exposure, we'll be happy to discuss our approach and all the precautions we take using x-ray imaging.
If you would like more information on x-ray diagnostics and your child, please contact us or schedule an appointment for a consultation. You can also learn more about this topic by reading the Dear Doctor magazine article "X-Ray Safety for Children."
By Central Kentucky Dental
March 28, 2018
When you're first startled awake in the middle of the night by a loud, gritting sound emanating from your child's room, you may have two questions: how can such a loud racket not be harmful to their teeth? And, how can they sleep through it?
While it sounds earth-shattering, teeth grinding (medically known as bruxism) is a common habit among children. It involves an involuntary grinding, clenching or rubbing of the teeth together, either during the day or during night sleep.
While certain medications or conditions could be factors, it's believed most teeth grinding arises from the immaturity of the part of the neuromuscular system that controls chewing. It's believed to trigger a night episode as the child moves from deeper to lighter stages of sleep toward waking. Older children and adults typically handle these sudden shifts without incident, but a young child's under-developed chewing response may react with grinding.
If a child's teeth are normal and healthy, teeth-grinding typically won't create any lasting damage. But because grinding does generate pressures greater than the teeth normally encounter, it can be harmful to decayed teeth or those with enamel erosion due to high acid from consumption of sports and soda drinks. And it's also a cause for concern if the habit continues into later childhood or adolescence.
To avoid these problems, it's best to keep your child's teeth as healthy as possible by practicing daily brushing and flossing, and regularly seeing a dentist for cleanings, treatments and preventive measures like topical fluoride or sealants. And be sure to limit sugar and acidic foods and drinks in their diet to protect against decay and erosion.
You can also take steps to minimize teeth grinding and its effects. Consult with your physician about any medications they're taking that might contribute to the habit. If there are psychological issues at play, seek therapy to help your child better manage their stress. Your dentist can also fashion a custom night guard worn while they sleep that will prevent their teeth from making solid contact during grinding episodes.
Most importantly, let your dentist know if your child grinds their teeth. Keeping an eye on this potentially harmful habit will help lead to appropriate actions when the time comes.
If you would like more information on teeth grinding, please contact us or schedule an appointment for a consultation. You can also learn more about this topic by reading the Dear Doctor magazine article "When Children Grind Their Teeth: Is the Habit of 'Bruxism' Harmful?"
By Central Kentucky Dental
October 13, 2017
As if the preteen years didn't give kids and their parents enough to think about, new oral health concerns loom on the horizon. Along with major changes to the body, brain and emotions, additional risk factors for tooth decay and gum disease appear during adolescence — the period of development starting around age 10 and extending through the teen years that marks the transition from childhood to adulthood.
Even with declining rates of tooth decay across the nation, the cavity rate remains high during adolescence. According to the American Academy of Pediatrics, 1 in every 5 adolescents has untreated tooth decay. What's more, the onset of puberty — usually beginning around age 10-11 in girls and 11-12 in boys — brings changes in hormone levels that can affect gum health.
We all have millions of microorganisms in our mouth, representing hundreds of different species of mostly helpful, but some harmful, bacteria. Research has shown that total oral bacteria increases between ages 11 and 14, and new types of bacteria are introduced, including some that are not friendly to teeth and gums. Some unfamiliar microbes trigger an exaggerated inflammatory response to dental plaque, so gum bleeding and sensitivity are experienced by many children in this age group. In fact, "puberty gingivitis," which peaks around age 11-13, is the most common type of gum disease found during childhood.
A combination of hormones, lifestyle changes and poor oral hygiene habits raises the risk of oral health problems among adolescents. A more independent social life may be accompanied by a change in eating habits and easier access to snacks and beverages that are sugary, acidic (like sports drinks and soda) or full of refined carbohydrates — none of which are tooth-healthy choices. And as children move toward greater independence, parents are less likely to micromanage their children's personal care, including their oral hygiene routines. Good oral hygiene can keep dental plaque at bay, lowering the chance of having gingivitis and cavities. But let's face it: Adolescents have a lot to think about, and keeping up with their oral health may not be a priority.
To help your preteen stay on top of their oral health, keep healthy snacks at home for your children and their friends and make sure you are well stocked with supplies such as new toothbrushes, floss and toothpaste. In addition, most preteens (and teens) can benefit from gentle reminders about oral hygiene routines.
For optimal oral health through all stages of life, make sure your preteen keeps up with professional teeth cleanings and exams, and talk with us about whether fluoride treatments or sealants may be appropriate for your child.
For more on your child's oral health, read "How to Help Your Child Develop the Best Habits for Oral Health" and "Dentistry & Oral Health For Children" in Dear Doctor magazine.